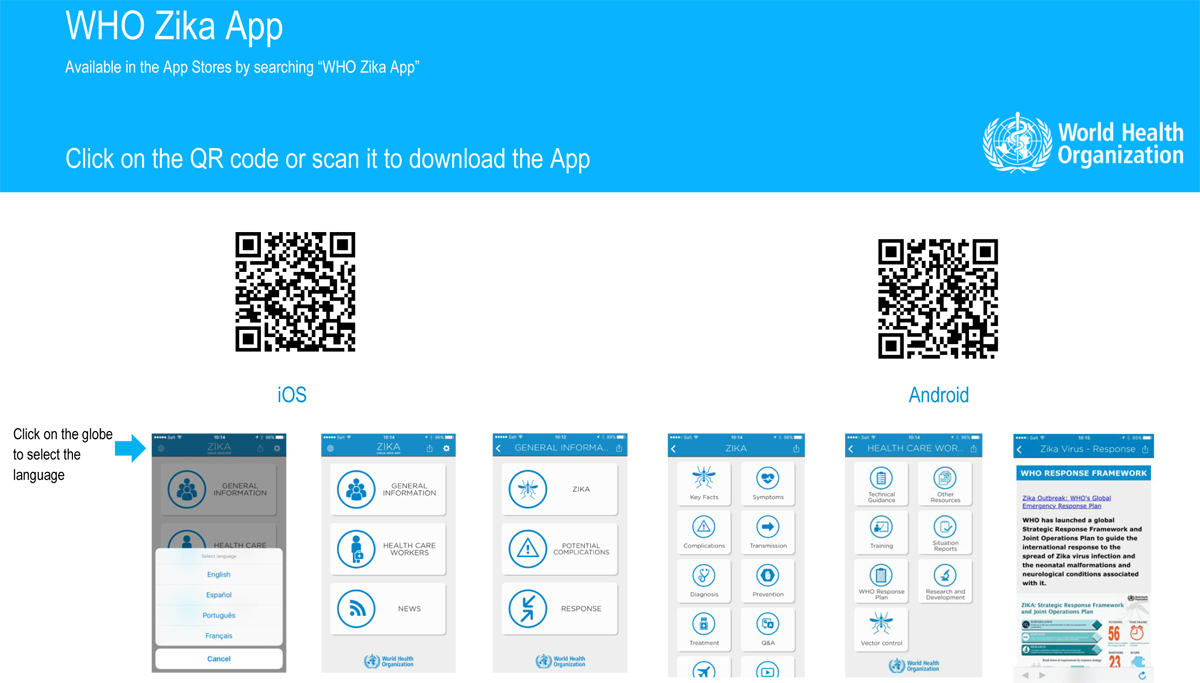 Dear colleagues,
To help you stay informed about Zika, we have put together the following information resources:
- A 'one-stop' access to all guidance that has been developed so far. (On the attached, interactive PDF just click on the language icon for the guidance you wish to read. Please note that any updates[1] will be posted at the same location, so that the interactive PDF remains up-to-date as well)
- Links to the 'Zika App' ( iOS and Android versions). This app provides rapid, easy access information in multiple languages – you can also use the attached, interactive PDF to inform others
- A link to the situation reports (updated each Wednesday)
- A link to the WHO main Zika website with fact sheets and other resources you may find useful.
We hope that you will these resources useful and would like to enlist your support in disseminating this information, and in making available Zika knowledge to your contacts and networks. If you have suggestions on how to improve these products or if you would like to provide any other feedback, please write back to us at This email address is being protected from spambots. You need JavaScript enabled to view it..
[1] Updates are planned to come out for the following guidance documents soon:
- Prevention of potential sexual transmission of Zika virus
- Assessment of infants with microcephaly in the context of Zika virus
- Assessment and management of Guillain-Barré syndrome in the context of Zika virus infection
- Breastfeeding in the context of Zika virus
- Pregnancy management in the context of Zika virus
[1] Updates are programmed to come out for the following soon:
- Prevention of potential sexual transmission of Zika virus
- Assessment of infants with microcephaly in the context of Zika virus
- Assessment and management of Guillain-Barré syndrome in the context of Zika virus infection
- Breastfeeding in the context of Zika virus
- Pregnancy management in the context of Zika virus