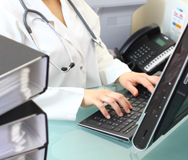 Dear Colleagues,
The Public Health Data Standards Consortium (based in Baltimore, USA) has just released the following two documents related to Public Health Laboratory domain Standards, which might be of interest to you.
"Part 1: HIT Standards in Public Health Laboratory Domain- an overview of HIT standards and their implementation efforts by public health laboratories and national organizations to date, i.e., Where Are We Now, and
Part 2: A Roadmap on HIT Standardization for Public Health Laboratories- a proposed implementation strategy and a roadmap to improve laboratory information management systems (LIMS) interoperability with all its partners and suggestions for future PHDSC-APHL projects, i.e., Where Are We Going." ---- Source: PHDSC, 2012
Additionally, substantial planning is underway at HQ to systematically work with PHDSC as well as numerous other SDOs to facilitate a compendium of health data standards that will address all aspects health information systems in the context of eHealth.
Thank you and kind regards,
Ramesh
------
Dr. Ramesh S. Krishnamurthy
Focal Point, eHealth Standardization and Interoperability Department of Knowledge Management and Sharing Innovation, Information, Evidence and Research Cluster World Health Organization Avenue Appia 20