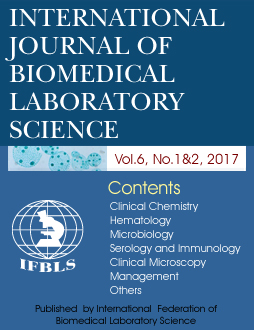 We are excited to announce the latest edition of the International Journal of Biomedical Laboratory Science (IJBLS) has been published. International Journal of Biomedical Laboratory Science(IJBLS) Vol. 6, No. 1&2:1-23 http://www.ijbls.org/archive_1.asp?IsAno=9&IsBno=13
The Journal has the following four articles:
► Effect of Tobacco Smoking on Oral Microbial Flora and the Relationship with Oral Health in Calabar, Nigeria
Ofonime M. Ogba, Joshua J. Ewa, Oluwayemisi A. Olorode, Maurice Mbah
Cigarette smoking is a public health problem. It decreases the commensal population of normal flora in the oral cavity leading to an increase of pathogenic microbes. It causes oral cancer, periodontitis, colour change on the teeth, halitosis and other health implications. The study was designed to determine the changes caused by tobacco smoking on the microbial profile and oral health conditions of cigarette smokers.
► Highly Active Antiretroviral Therapy Related Changes in Renal and Liver Functions in HIV Infection
Augusta Chinyere Nsonwu-Anyanwu, Sunday
Jeremaiah
Offor, Dianabasi King, Chidozie Elochukwu Agu, Edmund Egbe, Wofai Alfred Eyong, Anthony Essien
Essessien
, Chinyere Adanna Opara Usoro
Alterations in liver and renal functions are among the complications of HIV infection, and highly active antiretroviral therapy (HAART) has been implicated. The combined nephrotoxic and hepatotoxic effects of HAART were determined by assessing the renal and liver functions of HIV sero-positive subjects on HAART in a tertiary hospital.
► STUDY FOR MONITORING OF ANTIMICROBIAL RESISTANCE TRENDS (SMART): A Surveillance of Gram-negative Bacilli Causing Urinary Tract Infections in Inpatients
Mohd Nazil Salleh, Siti Nur Lina Azman, Henkie Isahwan Ahmad Mulyadi Lai, Seri Ambal
Urinary tract infection (UTI) is an infection of one or more structures in the urinary system, most of which is caused by gram-negative bacteria. Study for Monitoring Antimicrobial Resistance Trends (SMART), an ongoing global surveillance program, monitors the susceptibilities of gram-negative bacilli from inpatient with urinary tract infections (UTIs)
► VITAMIN D LEVELS AND AUTOIMMUNE DISEASES: A CROSS-SECTIONAL STUDY
Antonia Mourtzikou, Marilena Stamouli,
Perseas
Houtopoulos, Athanasios Akalestos, Anastasios Skliris, Georgia
Kontelia
, Christos Kroupis, Paraskevi Moutsatsou, Emmanouil Mournianakis and Christiana Demetriou
Autoimmune diseases are a group of disorders with heterogeneity in epidemiology and in clinical phenotype, characterized by tissue and organ damage as a result of auto attack against self-antigens. Vitamin D receptors have not only been identified in tissues that take part in calcium homeostasis, but also in a variety of cell groups that mainly interfere in immune regulation.
Please support IJBLS by sharing the articles with your colleagues.