Address President Marie Culliton to the GAD 2022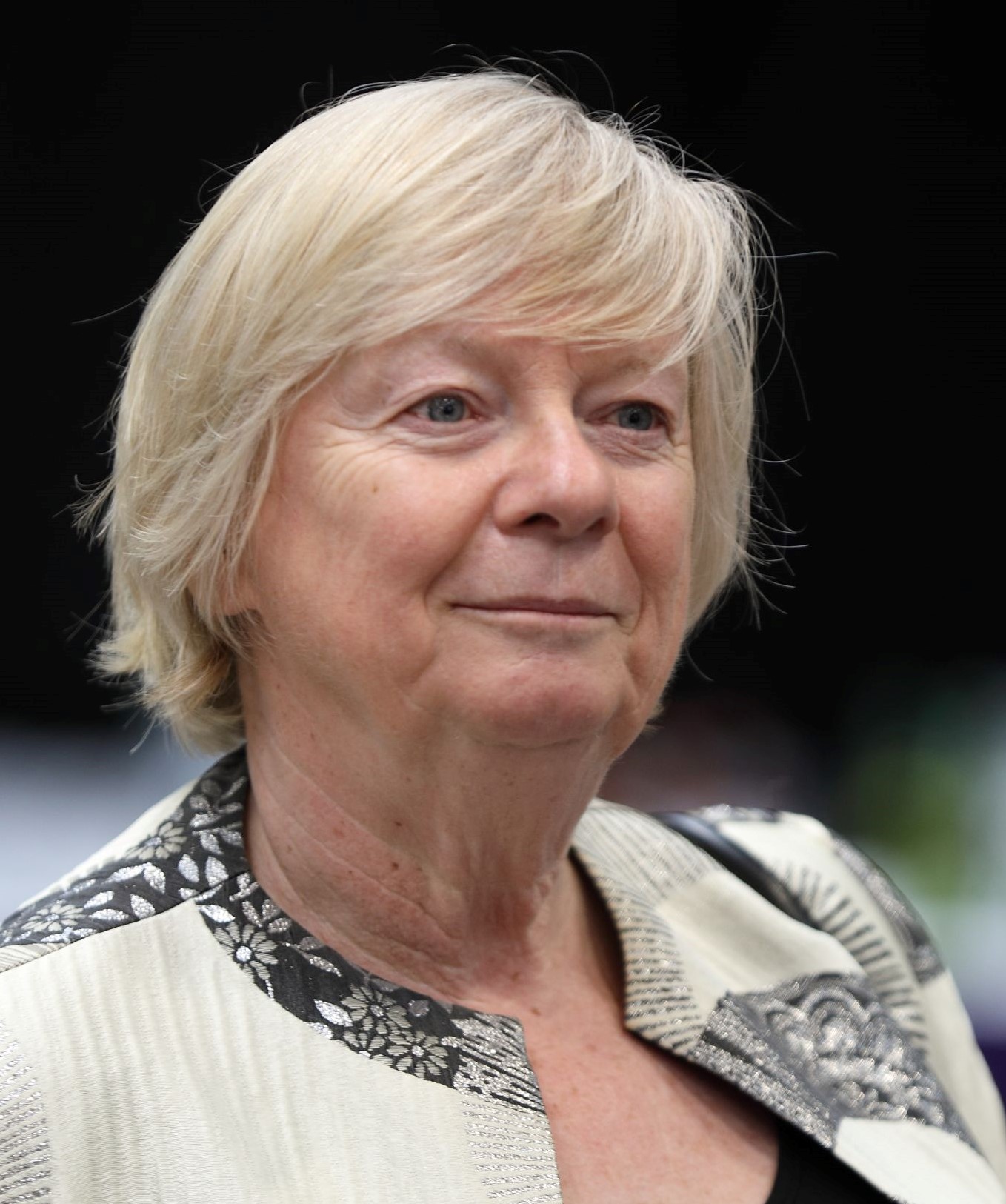 Dear Colleagues
I am both honoured and humbled by your trust in me by electing me as your 32nd President. As I accept this role of leading the team I am excited as to what we can, and must, achieve over the next 2 years.
I should like to start by thanking all the members of the outgoing Board, led by Alan Wainwright, for their work over the past 2 years as we operated entirely over Zoom. Their energy and enthusiasm is infectious. It is deeply disappointing that, for many reasons, the entire Board has not been together at this wonderful Congress in Suwon.
Our Korean colleagues in KAMT led by In Ho Jang and Won Jin Ki have organised a comprehensive programme of scientific excellence for our delegates. We have been treated to excellent hospitality and looked after by their fantastic support team. This was topped by the most amazing laser show I have ever seen at the sumptuous banquet last night.
As I prepare to take on the role of President of IFBLS I know that I will be Walking in the Footsteps of Giants. I would like to pay gratitude to Noel White, from Ireland, who was President 20 years ago and who mentored me in my transition to Chief Delegate.
There is no doubt that we are facing challenging times. The pandemic has been both a challenge and opportunity for us as a profession. I am immensely proud of this profession and the way each Biomedical Laboratory Scientist has unstintingly done their best, and then more, to develop and deliver high quality testing for Covid 19 using the full range of methodologies. What epitomises this profession is how we have responded, freely sharing our knowledge and expertise with others to ensure best patient outcomes. It was wonderful to hear both the Mayor of Suwon City, Jae Jun Lee and Dr Maria Van Kerkhove of the World Health Organization acknowledge this and thank us for our life saving work. We join Dr Van Kerkhove's concerns regarding the dismantling of mass testing laboratories in many countries.
As IFBLS we must be both responsive to the needs of our members and also take a leadership role for the profession. The way we interact in the Board has changed, no longer are there semi-annual face to face meetings in a single location, rather the digital highway permits more regular meetings, with each in their own country. This format had advantages but, as I can see from our week in this beautiful city of Suwon, nothing compares to face to face interaction where ideas can be exchanged more freely.
The norms of large congresses with trade exhibitions may be behind us. We may need to consider a paradigm shift in the way we do our business and remain relevant to our members.
A New Normal
As we increase our interaction with the World Health Organization we need to ensure that the panels of experts we have formed are used to best effect, assisting us to grow our scope of influence. Our responses need to be both informed and agile.
IFBLS represents Biomedical Laboratory Scientists in the global arena. We need to work to ensure we represent a larger proportion of the profession worldwide. We also need to reach into the consciousness of the individual professionals whom we do represent. This New Normal should stretch to exploiting digital technologies to make our Britta Karlsson Webinar Series more available to all via digital transmission and through publication in our excellent revitalised Journal.
We can look to exploit this new normal way of communicating to hold regular regional meetings with members to discuss specific regional issues and for regular consultations with our experts.
The election of our new Board of Directors today sees a significant change of the guard at IFBLS. To Anne Lindgren, who has completed her cycle of Presidential roles, to Bert Asbild, Leila Florento, Hironori Katayama and Cathy Otto who have completed their terms as members of the Board of Directors we say a heartfelt thank you. The accumulated expertise you take away with you will be sorely missed.
I will be delighted to lead the management committee with the support of now Past-President Alan Wainwright and your new President-Elect Gabriella Lillsunde-Larsson along with the indispensable Janie Hames. I welcome the new members of the Board of Directors, chosen by you to work for the profession in this arena for the next 2 years: Hassan Aziz, Maria Klement, Godswill Okara, Ki-Jong Rhee, and David Wells.
Together we will refocus our priorities and set a plan to deliver on our objectives.
Those of you who know me well have heard me use orchestra metaphors before. The job of the orchestra is to make music. The composer writes the score. The conductor has a vision of how to translate this score into music. Without the musicians the music cannot become reality. I am now your conductor and I need all of you playing in harmony in our orchestra to make the music that will set the world's feet tapping.
Marie Culliton
IFBLS President 2022 - 2024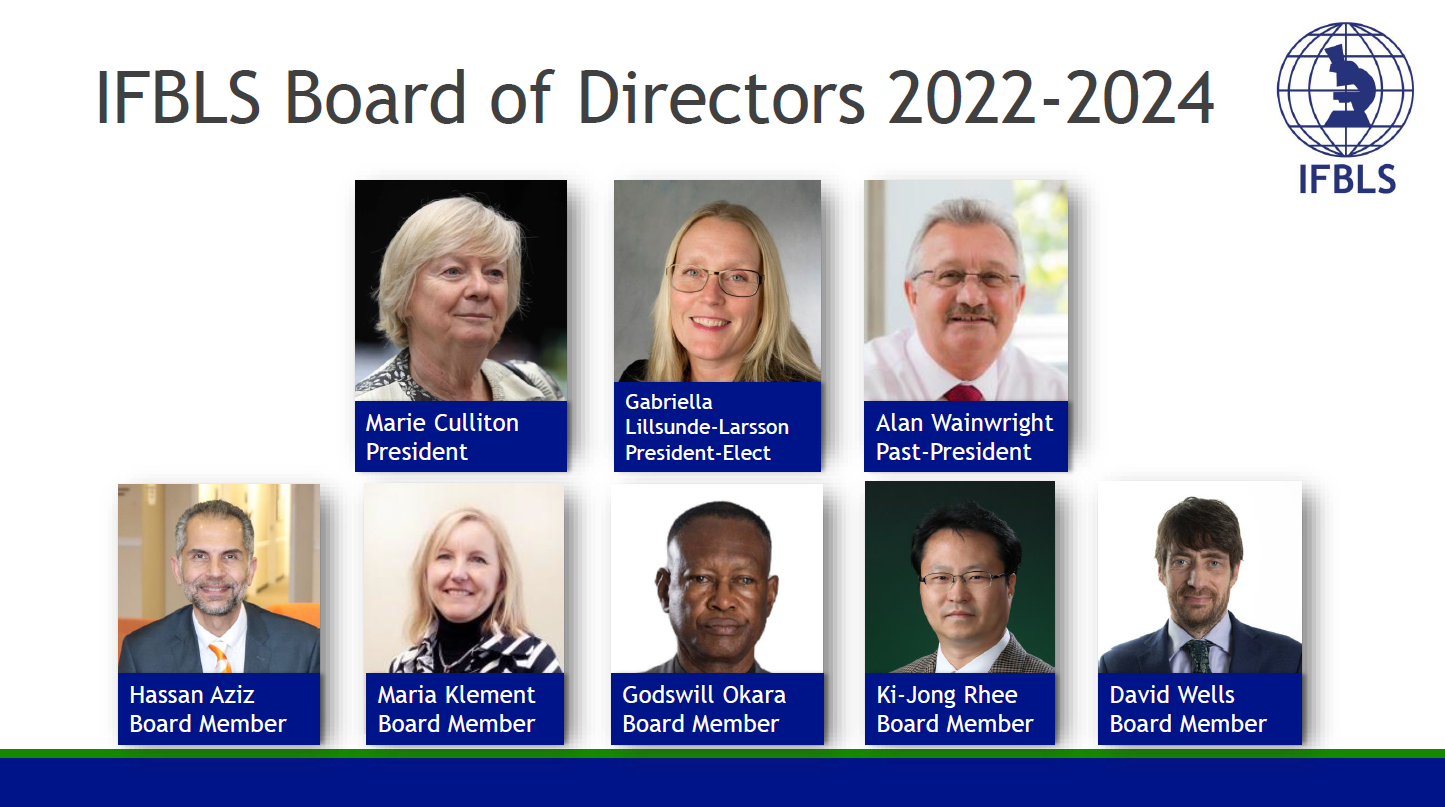 IFBLS Annual and President's Report 2021 - 2022
IFBLS Annual and President's Report 2020 - 2021
IFBLS Annual and President's Report 2019 - 2020
IFBLS Annual and President's Report 2018 - 2019