Details

Hits: 2936
The International Directory of Biomedical Laboratory Science Education (IDBLSE) was originally created in 1988. The Chief Delegates of IFBLS member associations agreed that the directory is a valuable tool and should be updated to provide current information.
Many individual and Associations have contributed their time and information in the updated version of this document and the IFBLS Board wishes to thank all involved for their assistance.
It is hoped this document will be beneficial to educators and all working in Biomedical Laboratory Science. The IDBLSE Directory is available in the "Members Only" area of the IFBLS website. www.ifbls.org
Please contact the IFBLS Executive Administrator at This email address is being protected from spambots. You need JavaScript enabled to view it. if you do not have a user name or password to the "Members Only"
area of the IFBLS website or if you have any questions.
Details

Hits: 5806
Biomedical Laboratory Science Day, April 15.
BLS Day is an opportunity to promote public awareness of the theme and the contributions made by the profession as it relates to health care.
The theme for 2017 and 2018 BLS Day is "Antibiotic Resistance".
In 1996 at the World Congress in Oslo, the General Assembly of Delegates (GAD) agreed to establish a world-wide Biomedical Laboratory Science Day (BLS Day). This day is for the promotion and celebration of the key role Biomedical Laboratory Scientists have in diagnosis and treatment of patients.
The theme for the day is selected by the IFBLS Board of Directors and is related to health issues and support the UN and WHO Sustainable Development Goals (SDGs). The theme is used for two years.
Details

Hits: 5678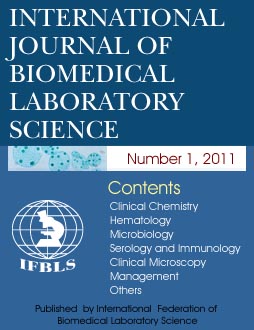 The International Journal of Biomedical Laboratory Science (IJBLS) publishes the most current research on the biomedical laboratory sciences. The journal covers Clinical Chemistry, Hematology, Microbiology, Serology and Immunology, Clinical Microscopy, Education and other topics.
IJBLS is an on-line journal published officially by International Federation of Biomedical Laboratory Sciences (IFBLS). Two issues are published every year. The journal is devoted to the dissemination of new knowledge concerning the biomedical laboratory sciences.
Access IJBLS at http://www.ijbls.org/